TakeControlTakeCharge
Living with Chronic Pain & Disease
Chronic Disease Self-Management Workshop
Welcome to the Hamilton, Niagara, Haldimand, Brant, Norfolk and Burlington Take Charge! program.
Take Charge! is a FREE workshop for people with on-going health conditions.
Each workshop runs once a week for 2½ hours, over six weeks. Expect to meet about ten new people in your workshop.   You must pre-register for the workshop.
Take Charge is not a cure but it can help you live a healthier life.
Would you like to:
Feel more comfortable asking questions at your medical visits?
Work on making healthier food choices?
Take steps to become more active?
Learn how to talk to your family and friends about your needs?
Find new ways to manage your stress and your emotions?
Talk to people who are going through similar challenges?
If you answered YES, then Take Charge! can help you to start to Take Control.
The BRAIN (Benefits, Risks, Alternatives, Intuition, Next Steps) app is based on our popular worksheet. The app and worksheet both are designed to help you to think about the Benefits, Risks, and Alternatives to a decision.

BRAIN App and Worksheet Downloads
Health and Wellness Advertising Claims: So, is it Truthful?
For more information call 1- 855-333-2376 or browse our upcoming workshops.

Online Chronic Disease Self Management Workshop.
Register online
Support Group
Living Sharing Caring

Take Charge members can interact with other members who suffer from the problems related to their illness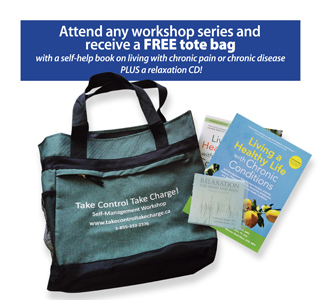 Online Chronic Self-Management Program
FREE to individuals across Ontario who are living with one or more chronic conditions such as diabetes, chronic pain, high blood pressure, stroke, cancer, heart or kidney conditions. Many of the workshops are also beneficial for caregivers and anyone looking to improve their health literacy. The online programs can be accessed from any device with an internet connection and have been designed to meet different needs; from one-on-one health coaching and group-based workshop series, to one-time health literacy webinars. To learn more about the online self-management programs or to register for an upcoming program visit
or call (Toll-free) 1-844-301-6389